Hello Vox'Rs!
With the constant flux of popular social media applications, Frontback is on the rise and soon the world will begin to embrace this new application.
Voicebox Media is one of the first organizations to utilize Frontback to its fullest ability and today I am going to give a quick 101 on the application so you can follow us and get a VIP behind-the-scenes of what goes on around the office.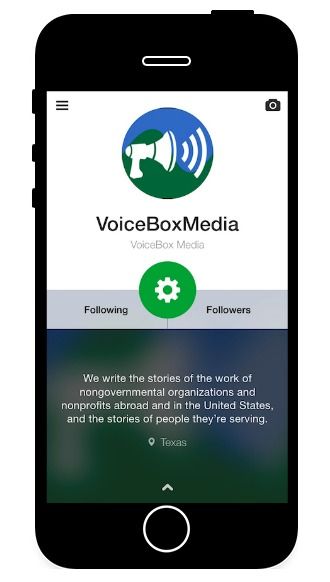 Frontback's user-friendly interface makes the download process and registration a snap. Once downloaded, you have the option to create an account through your Twitter handle, or by email. The link to the download is here.
Once you've downloaded the app and created an account, it's time to set up your profile! Your profile should include your name, a photo which will be used as your icon and a short bio which describes yourself.
So you have an account and set up your profile, now what? Frontback is a photography application which specializes in the use of your mobile device's front-facing and back-facing cameras to take two simultaneous photos.
To take a photo simply press the camera icon in the top right corner of the screen (See photo on right).
Next, Frontback will guide you through the photo process. You can choose to take the front-facing photo first, or the back-facing photo. To change which camera is being used, simply swipe your finger to the left or right on the currently activated camera screen.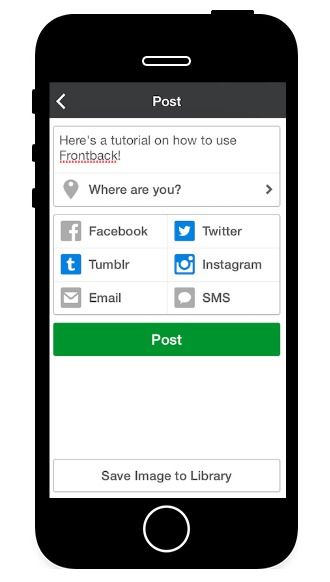 Most Frontback users take a photo of what is happening in front of them and then a selfie of themselves. I have taken my photos (on the left) and am now ready to post it!
Craft a caption! The caption can be anything you choose. I put "Here's a tutorial on how to use Frontback!"
Once you've established a caption, you are able to share your creation to many social medias. Facebook, Twitter, Tumblr, Instagram and even through email or text message. Note that you are able to save your Frontback image to your phone's library by pressing the button on the very bottom (See image on the bottom right).
That is Frontback in a nutshell! VoiceBox Media is more than excited to be able to utilize this application and give you an insiders look to what we do and all the exciting things that happen at Voicebox Media! Be sure to Follow us by searching "Voicebox Media"  in the application!